12 Days In And Around Namibia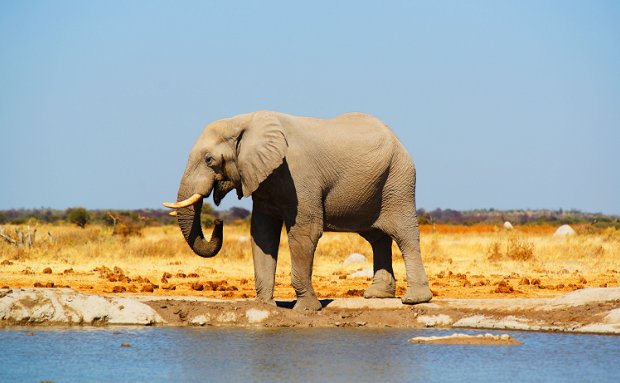 We start our 12 Days experience visiting Sossusvlei, moving to Swakopmund, Damaraland, Etosha and end Namibia tour in the far north-east at the Kavango.
From here we cross the border to Botswana where we will spend 4 awesome days visiting wildlife, and the Delta with all that it has to offer. We finish our tour in Victoria Falls before we bid good-bye to our clients at the airport in Zambia or Zimbabwe.
Included in the tour's price:
Transportation/fuel (in case of self-drive fuel is not included),
Accommodation
Meals as per itinerary
National park entrance fee
Tour guide for the entire tour
Transfer to and from the airport
Pick-up in Windhoek and guests' transfer to the lodge/hotel after the tour
Not included in the tour's price:
Flights (bus tickets) to and from' Namibia 
extended accommodation or additional transfers
Sleeping bags on camping tours
Compulsory travel insurance
Water and drinks
Alcoholic beverages
Optional activities/attractions
Snacks
Gratuities and tips
Trip extensions
Personal shopping
Visa to Namibia
Gallery
Itinerary
Day 1
Arrival and Welcoming

A warm heartily welcome to the smile of Africa – Oshili awaits your arrival.
After your collection, we make our way to a beautiful lodge just minutes away from the capital. After comfortably settling in, we will take you on a long-awaited lovely afternoon game drive accompanied by refreshing sundowners.
Accommodation: Arebusch Lodge
Duration of stay: 1 night
Meals: Dinner and Breakfast
Distance: 40 km
Day 2
Waterberg Plateau Park
Early morning just after breakfast, we travel to the Waterberg Plateau Park. 
It rises 200 meters above the surrounding savannah, it's known for one of the most peaceful places in Namibia. It is home to over 25 game and over 200 bird species. 
Probably a must-see is the Dinosaur tracks embedded in sandstone on top of the Plateau. We end the day off with a traditional Namibian style braai accompanied with sundowners.
Accommodation: Waterberg Plateau Lodge
Duration: 1 night
Meals: Dinner and Breakfast
Distance: Approximately 320 km

Today we start our two-day wildlife experience.
Approx. 3 to 4 hour drive to our next destination, Etosha. Sit back, relax and enjoy the fascination of the fauna and flora during the drive.  We arrive at Etosha just after lunch, and just in time for an afternoon game drive. 
Etosha is 22.270km2 in size and has about 114 mammal species, of which several are endangered. Examples of these are the black rhino, cheetah and the black-faced impala.  The black rhino in Etosha currently represents one of the largest populations in the world. We will also get to see herds of animals, including elephants, lions, giraffe, blue wildebeest, zebra, hyena and many antelopes. Maybe we will be lucky to also see cheetahs and leopards.  Etosha is also a bird paradise for bird lovers.
After the exciting game drive, we enjoy a lovely dinner with the sound of local music playing in the background upon an open fireplace. Gazing at the bright beautiful stars in the sky.
Accommodation: Etosha Safari Lodge
Duration: 1 night
Meals: Dinner and Breakfast
Distance: 254 km
More of the fauna and flora, we will be driving from east to west through Etosha, having the opportunity to see more wildlife until we reach our next destination.
A signature Lodge - Dolomite Camp, is our next accommodation, where we can relax and enjoy the beauty of the untouched wide open spaces in the unfenced Luxury camp.

Accommodation: Dolomite Camp
Duration: 1 night
Meals: Dinner and Breakfast
Distance: 70 km

On the road again, we quickly stop at Blydskap school which is on our way to our next destination (Blydskap is a pre-school started to support children from poor backgrounds, mostly orphans supported by Europeans & Namibians).
Thereafter we travel to a cultural Himba village, learning their traditions and their ways of living.  We spend the night at a lodge near Kamanjab which has an ethnic atmosphere, feeling land and the culture.

Accommodation: Lodge in near Kamanjab
Duration: 1 night
Meals: Dinner and Breakfast
Distance: 170 km

Our day starts very early, as this day is packed full of adventures. 
We travel to Twyfelfontein. On the way we make a quick stop at the Majestic Vingerklip about 71 km west of Khorixas. We take a small walk to the Bushman rock paintings estimated to be well over 6000 years old, which in so many ways tells the beautiful stories of the inhabitants during that time period.
Thereafter we will be going to the ancient Petrified Forest, see the gigantic Organ Pipes, and lastly travel to the glowing Brandberg.  We will try to fit all of this in one day, embrace the beauty of nature and its scenery.

Accommodation: Twyfelfontein Lodge or lodge near Twyfelfontein
Duration: 1 night
Meals: Dinner and Breakfast
Distance: Approximately 210 km
After breakfast, we head for the coast, stopping in Khorixas for shopping needs, as it is essential now.
We make our way to the beautiful coastal town, situated on the Atlantic Ocean, Swakopmund. 
Swakopmund has a numerous amount of unique German architecture also being very clean and quiet which gives us time to relax after our long journey. We check into a cozy Guest House/ Hotel/ Bed& Breakfast. 
The rest of the day you're free to take a walk in and around the town to admire the beauty of the town sandwiched between the dunes and the sea.

After breakfast, our fun-filled day starts.  We start off with a Catamaran Dolphin Tour.  During this 3 hour tour you will take a cruise around the Walvisbay area.  You will see hundreds of thousand of seals, Dolphins, and if you lucky, a whale or two.  Pelicans will join you from time to time on the boat, they are crazy for attention.
We arrive back on shore at 13h00 where you will get into the 4x4 vehicle that will take you on your next adventure.  A 5 hour tour to Sandwich Harbour Lagoon.  The only place in the world where you see the cold Atlantic Ocean meet the oldest desert in the world, The Namib.  Waves hit against the Dunes and the scenery is simply breath taking.  Both the Catamaran Tour and Sandwich Harbour come with light meals and Champagne and soft drinks. 
After a fun filled day, we dropped you off at the Hotel just in time for dinner!
Accommodation: One of the many beautiful hotel/guest houses
Duration: 2 nights
Meals: Breakfast and Dinner
Distance: 340 km
We travel to Sossusvlei.  The Namib is the oldest desert in the world and has the highest dunes in the world.  During our drive to Sossusvlei, we will drive through amazing scenery, Namibia at its best.   Be on the look out for wildlife, you might see the occasional Mountain Zebra, Ostrich, Wilderbeest and or even a Giraffe or two.  We will arrive at our preferred lodge just before lunch. 
After we have settled in, we visit the Canyons and climb the Dune Elim, looking down on the breath-taking landscape.
Day 10
Big Daddy and Dead Valley

Early morning drive into Sossusvlei. Today's activities include visiting the Dead valley, and to challenge climbing the Big Daddy, which is the highest dune in the world. Dune 45 can also still be climbed for those who are still adventurous.

Accommodation: Sossusvlei Lodge
Duration: 2 nights
Meals: Dinner and Breakfast
Distance: 400 km

We travel just after breakfast and make our way east towards the Kalahari, where the beautiful red sands lie. We spend one night at one of the lodges in and around the Kalahari. 
A pleasant afternoon walk with the Bushmen awaits us, enjoying their beautiful traditional stories whilst deliciously sipping on a Sundowner.

Accommodation: Lodge near the Kalahari (Kalahari Red Dunes Lodge)
Duration: 1 night
Meals: Dinner and Breakfast
Distance: Approximately 380 km
Today we make our way back to the Windhoek.  We either take you straight to the airport or drop you off at your hotel, depending on your flight times. 
If time permits us, we could take a quick City tour in Windhoek, the capital city of Namibia.  As this day is our final day, where we reflect back on what was a memorable 12 Days of travelling in the vast Land of the Brave saying Good Bye to Namibia.
Distance: Approximately 220 km