3 Day Etosha Wildlife Tour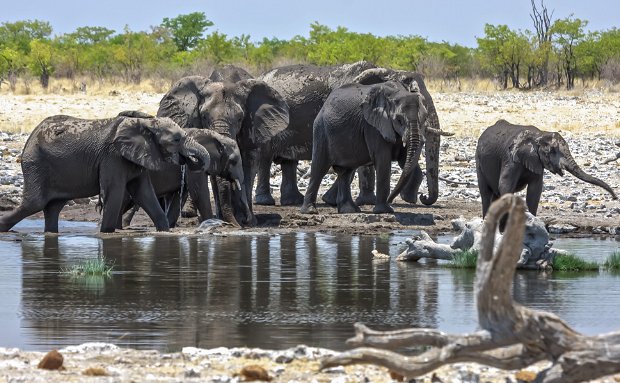 We visit the Etosha National Park during an exhilarating 3 Days.
Etosha was proclaimed a National Park in 1907. Previously it was the hunting ground for the San people, and here we find thousands and thousands of wildlife.
During our tour, we will see Elephants, Giraffes, Zebra, Lions, Buffalo, Cheetah, Oryx, Springbok, Black Rhino, Jackal, Spotted Hyena, Brown Hyena, Leopard, and many more.
Etosha is also well known for its thousands of bird species, and of bird lovers, this is true heaven on earth.
Included in the tour's price:
Transportation/fuel (in case of self-drive fuel is not included),
Accommodation
Meals as per itinerary
National park entrance fee
Tour guide for the entire tour
Transfer to and from the airport
Pick-up in Windhoek and guests' transfer to the lodge/hotel after the tour
Not included in the tour's price:
Flights (bus tickets) to and from' Namibia 
extended accommodation or additional transfers
Sleeping bags on camping tours
Compulsory travel insurance
Water and drinks
Alcoholic beverages
Optional activities/attractions
Snacks
Gratuities and tips
Trip extensions
Personal shopping
Visa to Namibia
Gallery
Itinerary
Rhino and Elephant Tracking

After breakfast on our way to Namibia's premier tourist attraction – Etosha National Park! Etosha is one of the world's largest Game Parks, extending more than 350km from east to west.
The wide-open plains, numerous waterholes and large number of game (estimates: 200 Lions, 16000 Zebras, 7000 Oryx/Gemsbok, 2500 Elephants, 3000 Giraffes, 600 Black Rhino, and many more other species) makes visits to Etosha very rewarding. 

Afternoon game drive Return to the camp before sunset and closing of the gates. 

Accommodation: 2 nights at Etosha Safari Lodge/Camp
Meals: dinner
Distance: 500 km
Searching For The King

Today we continue our Etosha adventure with an extended game drive in the morning, trying to take in as much of this beautiful park and its wild animals as we can.
The large variety of birds and the ease with which they may be observed has made Etosha a popular birding venue. Larger birds such as the Secretary bird and Kori Bustard and numerous birds of prey are frequently spotted.
Meals: breakfast, dinner
Distance: around 100 km on gravel routes of Etosha
Scenic Namibia

We end our Etosha experience with a quick breakfast before we head back to the Capital, Windhoek.
On our way back we stop at the open market in Okahandja where you can buy memorabilia to remind you of our beautiful country and the experience you had with us. 

Meals: breakfast
Distance: around 450 km on tarred road