7 Day Bushmen and Himba Experience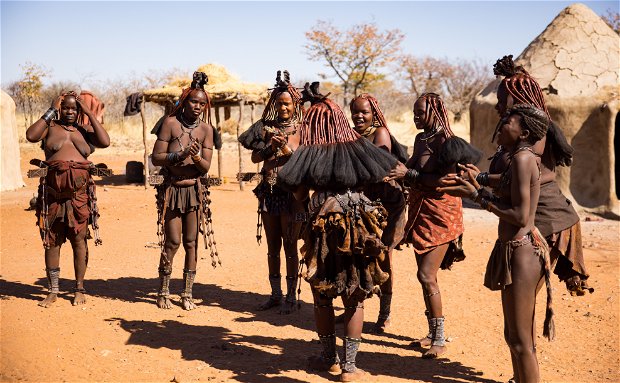 During these 7 days we walk, talk and dance with Himba people, the Damara people, and the San (Bushmen).
We learn more about their everyday way of life and even learn how to make fire using only two sticks, and to top it off the Bushmen teach us how to hunt with them.
We balance it with a wildlife experience in between the cultural tour and finish at the coast to allow our clients to relax in the cool and quiet little town of Swakopmund at the West Coast of Namibia.
Included in the tour's price:
Transportation/fuel (in case of self-drive fuel is not included),
Accommodation
Meals as per itinerary
Water and drinks
National park entrance fee
Tour guide for the entire tour
Transfer to and from the airport
Pick-up in Windhoek and guests' transfer to the lodge/hotel after the tour
Not included in the tour's price:
Flights (bus tickets) to and from' Namibia 
extended accommodation or additional transfers
Sleeping bags on camping tours
Compulsory travel insurance
Alcoholic beverages
Optional activities/attractions
Snacks
Gratuities and tips
Trip extensions
Personal shopping
Visa to Namibia
Itinerary
Day 1

After breakfast on our way to Namibia's premier tourist attraction – Etosha National Park! Etosha is one of the world's largest Game Parks, extending more than 350km from east to west.
The wide-open plains, numerous waterholes and large number of game (estimates: 200 Lions, 16000 Zebras, 7000 Oryx/Gemsbok, 2500 Elephants, 3000 Giraffes, 600 Black Rhino, and many more other species) makes visits to Etosha very rewarding.
We make time for an afternoon game drive.
Day 2

Another day of endless game viewing, we will spend these days on game drives that will hopefully give you lasting memories and endless photos to cherish a lifetime.
Etosha is also very popular for bird viewing, the large variety of birds and the ease with which they may be observed has made Etosha a popular birding venue for bird viewing lovers. 
Meals: breakfast, dinner
Distance: around 200 km on tarred and gravel roads
Duration: around 3 to 4 hours with stops for sight-seeing and lunch
Accommodation: 2 nights at Eldorado Lodge
Day 3
After breakfast, we are making our way to Khorixas, an area well known for its Himba people and Damara people. 
We take you on a cultural experience over the next two days, spending some time with the Himba and Damara people, learning about their nomadic way of life. This is a unique opportunity to observe their exotic culture and customs.
Meals: breakfast, dinner
Distance: around 250 km
Duration: around 3 to 4 hrs including breaks for picture-taking
Accommodation: 1 night at Kaoko Bush Lodge
Day 4
Today we make our way to Brandberg with its highest peak, Konigsberg, towering 2573m above sea level, was 1000 meters higher in the past.
The area is known for its more than 30 000 examples of rock art. We spend time with the Damara people, visiting the Damara Living Museum at Twyfelfontein.
Activities for the day:
Ethnic visit at the Living Museum presenting Damara culture.
Visit to the Organ Pipes
Viewing rock paintings
Meals: breakfast, dinner.
Accommodation: 2 nights at iGowati Lodge Khorixas
Distance: about 300 km on salt and gravel roads.
Duration: around +/-8 hours including sightseeing.
Day 5

Today we travel to the lodge near the beautiful and small Missionary town called Omaruru. 
We visit the Bushmen (San people), one of the oldest inhabitants in Namibia. We allow them to take us on a journey, showing us everything about their beautiful culture.
Meals: Dinner and Breakfast
Distance: +/- 300 km
Accommodation: 1 night @ Omaruru Guest House
Day 6 & 7

Just after breakfast we head west to the beautiful coastal town Swakopmund. We can have two amazingly relaxed days enjoying the wonderful cool air of Swakopmund.
Optional activities:
Sandwich Harbour
Dolphin Catamaran Cruise
Quad Biking
Camel Rides
Sandboarding
Scenic Flights
Meals:  Dinner and Breakfast
Accommodation:  2 nights at Indulge Guest House