Coastal Tours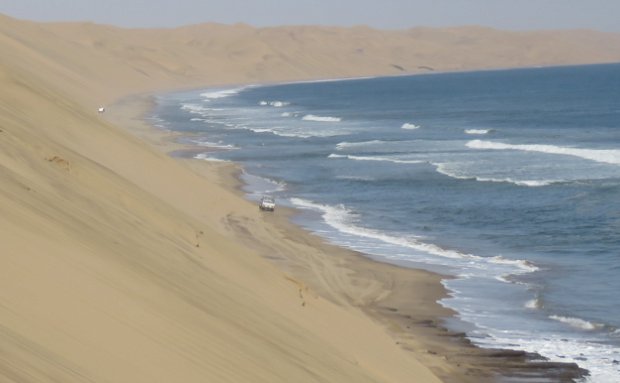 Sandwich Harbor: This is a fun filled half day tour. We take you to where the cold Atlantic Ocean meet the Oldest Desert, the Namib Desert. On our way to Sandwich Harbor we stop at the lagoon in Walvisbay to look at the Flamingo's and the many other birdlife. We stop at the Pink (Salt) Lake just outside Walvisbay, where after we take a 1-hour drive along the coast line all the way to Sandwich Harbor. We spend enough time here for you to take many pictures and take in the beauty of this amazing place where desert meet ocean. Here we enjoy a light lunch, fresh oysters and drinks, before we take a drive among the dunes before we return you to the comfort of your hotel.
Price: NAD 1 750.00 p/p, minimum 3 people.
Desert Dinner: We start off visiting the amazing Moonlandscape just outside Swakopmund. During this afternoon drive we also visit the amazing Welwitschia Mirabilis, the desert plant of Namibia. This plant lives for hundreds of years and survive very dry conditions in the desert while doing so. We enjoy sundowners on the dunes on our way to where we will have our desert dinner and enjoy an unbelievable sunset. We offer live entertainment and a 3-course dinner under the stars, before we return you to your hotel. Price: NAD 3500.00 p/p minimum 10 people. Less than 10 people can be accommodated at a slightly more expensive rate.
Bushmen Day Tour: This is an experience like no other. We take you on a day out with the Bushmen, where we walk and talk with them. They teach us their way of living, and we even get to make fire with just two sticks. They also teach us how to shoot with a Bow and Arrow, throw a spear and set traps for prey. We enjoy a light lunch before we drive back to Swakopmund. Price: NAD 2500.00 p/p; Minimum 2 people
Skeleton Coast and Cape Cross: The Skeleton Coast stretches about 1500 km along the coast of Namibia. On this tour the highlights are visiting a shipwreck, visiting the fishermen town Hentiesbay on our way back from visiting the hundreds of thousands of seals at Cape Cross. We also stop at Namibia's very own Dead Sea.
Price: NAD 1000.00p/p; Minimum 2 people